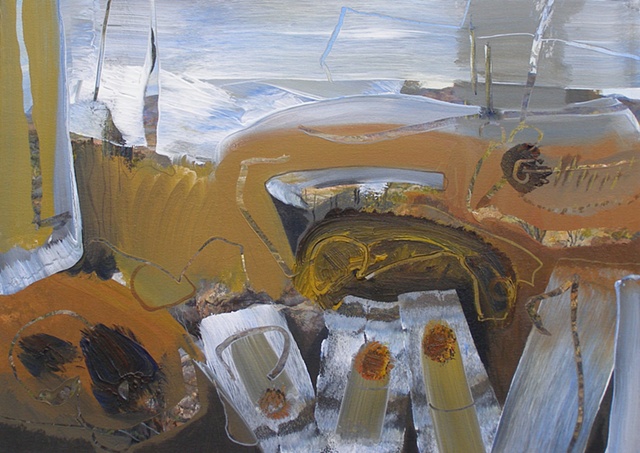 Drawings
Beginning in the early 90's I began drawing from live models with two groups of friends. These drawing sessions, lasting two to three hours, would happen at one or the other of our studios one to three times a month. Our process would begin with quickly observed and rendered warm-ups with the figure moving through a series of poses rapidly. This is a time honored approach that allows the artist to get in touch with the process of looking carefully and recording quickly. We would then have one or two long poses that would last one hour or longer. You will see in looking at my drawings the warm-ups as transparent layers of superimposed figures or just single expressive gestures of the figure. The longer poses are the more carefully rendered figures or faces. The mediums used are pastel and charcoal.
Nests
As birds will use a variety of materials to construct their nests, I have collected the man made discards of our world such as wire, steel banding and found objects with which to weave my nests. The hand fashioned eggs are glazed in a variety of ways producing natural and unnatural finishes and colors. The wire and found objects that I have found have developed a beautiful patina from the natural forces of time. I find my nest materials everywhere. Along the roadsides, railroads and alleyways, in the city or out in the desert are the discards of our world.
Some of the nests I create are like bird nests in look and scale. Others are more improbable in size and material choice. I love the form and color of my nests and I am particularly intrigued by the visual/poetic contrast between the pristine eggs and the nests made of steel.
Paintings
My paintings are expressive interpretations of nature or abstractions based on nature. I work in the field or in my studio using photographs I have taken on site. The work is produced spontaneously and interactively, using my source as a starting point, and a reference as the paintings develop. I take liberties with form and color to create evocative images.
Relief Work
As I do with my nests I collect discards of our world to produce my "dimensional drawings". I construct this work in much the same way as I doodle. Spontaneously and interactively. I select objects that have been made more palatable to me by nature's forces and arrange them with other objects until they are in sympathy with one another. I then fix them together. I continue constructing or deconstructing until the work resonates. Some pieces are accented with ceramic or metal orbs. These orbs provide a pristine contrast to the found object constructions. Sometimes the work is set aside for a time, years perhaps, and then worked on again with fresh eyes, or new materials, in order to finish the piece.
Sculpture
Using my found discards I construct literal and abstract sculptural forms. I am inspired and directed by the objects that I find in my collecting. One object may suggest a head, another a leg, or a wing, or a beak. Or, the objects themselves carry such power, that I let them stand carefully arranged on their own in an abstract configuration.